June 29th, 2013 - Chathan Raceway (Chatham, Louisiana) hosted their grand, reopening on Saturday, and Super Late Models were part of the program as fifteen entries were on hand for the $1,000-to-win event. Ray enjoyed a great night as he not only won his heat race, but also powered to the feature victory, which was his second of the season. He was followed across the finish line by Robbie Stuart, Troy Berdan, Jay Brunson, and Jeff Chanler.
June 22nd, 2013 - A trip to Boothill Speedway (Greenwood, Louisiana) on Saturday evening turned into Ray Moore's first win of the 2013 season. He started the night by powering to his heat race win, and then claiming the victory in the feature with Ronnie Adams following him across the finish line.
Full results from the event are available at www.BoothillSpeedway.org.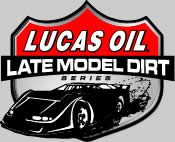 June 15th, 2013 - Ray Moore traveled to Magnolia Motor Speedway (Columbus, Mississippi) over the weekend for the annual Clash at the Mag, which was sanctioned by the Lucas Oil Late Model Dirt Series (LOLMDS).
Forty-six super Late Models entered the event, and struggles in time trials left Ray starting ninth in his heat race on Friday evening. He would only manage to advance to an eighth place finish, which pinned him deep in the starting grid for a b-main on Saturday night. He advanced to a sixth place finish in the b-main, but with only the top three cars transferring to the feature, his weekend came to an early end.
Full results from the event are available at www.LucasDirt.com.

June 1st, 2013 - Under threatening skies Ray Moore traveled to Jackson Motor Speedway (Byram, Mississippi) on Saturday evening for a $2,500-to-win, Mississippi State Championship Challenge Series (MSCCS) Super Late Model event at the 1/4 mile oval.
With twenty-five entries on hand Ray's night started slowly as struggles in time trials forced him to run a b-main. In the consolation race he finished fifth, which positioned him starting eighteenth on the feature grid for the 50 lap feature. During the course of the feature Moore kicked things into high gear as he passed fourteen cars to register a fourth place finish behind race winner, Chris Wall, Clay Fisher, and David Breazeale. Full results from the program are available at www.StateSeries.com.