April 19th, 2014 - Ray Moore returned to the driver's seat of his #93 Super Late Model over the weekend in a pair of event with the National Dirt Racing League (NDRL) at Magnolia Motor Speedway (Columbus, Mississippi).
Forty-nine Super Late Models assembled at the 3/8 mile oval for the $7,500-to-win program on Friday night, and after missing the transfer into the 40 lap main event via heat race action, Moore was left to run a b-main. Ray raced to a sixth place finish in the b-main, but only the top two finishers would transfer into the finale as his night came to an early end.
On Saturday night a talented field of forty-six Super Late Models registered to chase the $12,500 prize at the state of the art facility. Ray once again found himself behind the eight ball early in the evening, and after failing to transfer into the 60 lap finale via heat race or b-main action his night came to a disappointing early end.
Full results from the weekend are available at www.TheNDRL.com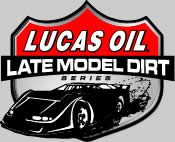 April 5th, 2014 - After Friday night's scheduled event at Jackson Motor Speedway (Byram, Mississippi) was conquered by Mother Nature, Ray Moore returned to action on Saturday evening at Ark-La-Tex Speedway (Vivian, Louisiana).
A talented group of fifty-one entries were on hand for the $10,000-to-win Lucas Oil Late Model Dirt Series (LOLMDS) program. Moore overcome a fierce battle with Don O'Neal to claim the win in his heat race, earning him the outside pole for the 50 lap main event. When the feature went green, Ray immediately took over the top spot from his front row starting position. The hometown driver continued to show the way as he maneuvered through lap traffic, fighting off challenges from Eddie Carrier Jr. and Scott Bloomquist during the course of the event. Moore's hard fought battle left him just short of the big payday as Bloomquist would make the pass for the lead at flag stand with just three laps remaining. Bloomquist would go on to claim the win while Moore settled in second. Ryan Gustin, Jimmy Owens, and Don O'Neal completed the top five.
Complete results from the event are available at www.LucasDirt.com