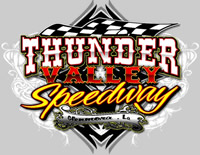 July 26th, 2014 - Ray Moore took part in the Inaugural St. Jude Classic at Thunder Valley Speedway (Glenmora, Louisiana) on Saturday night. The unsanctioned $5,000-to-win program drew a field of twenty-eight Super Late Models to the 1/4 mile oval. Ray locked into the sixth starting spot on the feature grid via preliminary action. In the main event Moore drove his #93 Moore Wireline Inc/MB Customs Super Late Model to a solid fourth place finish behind race winner, Kevin Sitton, Rob Litton, and Chris Wall. Tyler Erb completed the top five finishers. Full results from the event can be found at www.ThunderValleySpeedwayLA.com
July 19th, 2014 - Ray Moore entered a single P&W Sales Southern United Professional Racers (SUPR) Super Late Model event over the weekend at I-30 Speedway (Little Rock, Arkansas). A $2,000 winner's check was posted, which drew a field of twenty-eight entries to the clay oval. Ray started his night by finishing second in his heat race to lock into the pole position alongside Robert Baker for the 30 lap feature. Moore trailed Baker from the onset of the main event and ultimately settled for a second place finish behind Baker in the final rundown. Rob Litton, Lee Davis, and Jon Mitchell rounded out the top five finishers. Full results from the event are available at www.SUPRRacing.com
July 11th, 2014 - Southern United Professional Racing Series (SUPR) and Comp Cams Super Dirt Series competitor Ray Moore of Haughton, LA joined Dirt Cast on the Renegade Racing Fuels hotlines to talk about his start to the 2014 season, his limited schedule thus far, balancing racing with family and work, his battle with Scott Bloomquist in the Lucas Oil series event at Ark-La-Tex Speedway, feeling like he gave one away, looking forward to racing the national guys again, his two wins on the season, working on the new chassis and his plans for the rest of 2014. Moore drives the #93 Moore Wireline Inc MB Customs.
To listen visit: http://dirtcast.com/4E6m/sound-off-ray-moore-supr-and-comp-cams-late-models-071114/
July 5th, 2014 - After some time away from the track, Ray Moore returned to the driver's seat over the weekend with a pair of P&W Sales Southern United Professional Racers (SUPR) Super Late Model events in the state of Texas.
On Friday evening action opened at Timberline Speedway (Corley, Texas), with nineteen competitors registered for battle. Moore started his outing with a second place finish in heat race action to lock into the fourth starting spot for the 40 lap feature. At the drop of the green flag front row starter Tyler Erb took charge over Rob Litton and Jon Mitchell. Mitchell took second from Litton on lap two with Moore trailing close behind. Moore slide under Mitchell for second on a lap four restart and set his sights on the leader. Moore showed Erb his nose on lap seventeen as the duo race door-to-door, with Moore leading at the line. Within a lap Mitchell entered the mix, making it a three-wide battle for the top spot. Moore pulled away in the closing laps to ensure the $2,000 victory over Mitchell, Litton, Erb, and Shane Hebert.
On Saturday night the team traveled to Lonestar Speedway (Kilgore, Texas) to close out the doubleheader weekend with the P&W Sale SUPR tour. Twenty-one entries filled the pit area, and a heat race win would position Ray starting third in the finale. Moore battled at the front of the pack for much of the event before crossing the finish line in fourth behind race winner, Jon Mitchell, Rob Litton, and Patrik Daniel.
Full results from the weekend are available at www.SUPRRacing.com