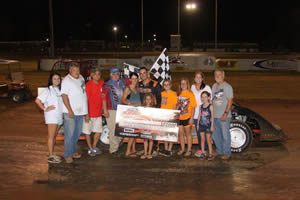 July 2nd, 2015 - Ray Moore returned to racing action on Thursday night by making the trip to Ark-La-Tex Speedway (Vivian, Louisiana) to compete in a P&W Sale Southern United Professional Racing (SUPR) Event. With 35 cars signed in, Ray notched a pole position starting spot for the feature event via preliminary action. When feature time action began Ray cruised to a $2,000 victory with Jon Mitchell, Morgan Bagley, B.J. Robinson, and Lee Davis completing the top five. Thursday nights win is Ray's first victory on the 2015 season. (Scott Burson Photo)
On Friday night Ray Moore traveled to Timberline Speedway (Corley, Texas) battling in another SUPR Series Event. In a total field of 28 Super Late Models, Ray scored a runner-up spot in his heat transferring him into the feature event. With $2,000 on the line, Moore fell back in the 40-lap feature event retiring a 15th place finish.

Ray is currently in eighth in the latest SUPR Standings. Complete results from these events are available at www.SuprRacing.com.